Date
Jul 17 2021
Expired!
Elaine Davis-Nickens Memorial Celebration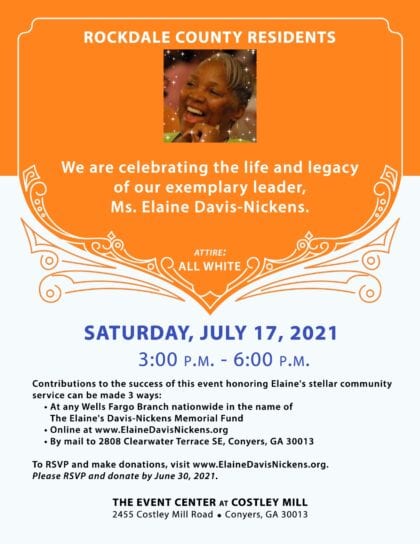 We are celebrating the life and legacy of an exemplary leader,
Ms. Elaine Davis-Nickens on
Saturday, July 17, 2021, 3:00- 6:00 p.m. at The Event Center in Costley Mill Park, 2455 Costley Mill Road NE, Conyers, GA 30013
Attire: All White
Monetary Contributions to the success of this event honoring Elaine's stellar community service can be made 3 ways: See attached flyer for details.
To RSVP, and make donations, visit www.ElaineDavisNickens.org.
We ask that you RSVP and donate by July 9, 2021.
Please do share the attached flyer invite to attend and support this well deserved Memorial event with your listserve of people who have been moved and touched by the noteworthy results of Elaine's dedicated devotion to Community Service!
EDN Memorial Celebration Host Committee.
CDC COVID-19 guidelines in affect on the event date regarding  Mask Wearing, Hand Washing, Social Distancing, etc. will be followed.